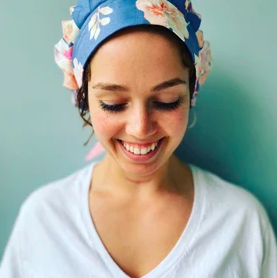 Welcome to my shop! My name is Annalynne Gonzales and I'm so happy to have you here.
I started Sew In Love Design Company in February 2020, when I was about halfway through CRNA school. I needed a creative outlet and a break from the long study hours (and making a little extra money didn't break my heart either). A couple months later, the pandemic hit and I was sent home from clinicals for 6 weeks- in which time Sew In Love took off! Since then, Sew In Love continues to blossom and improve. In 2021, I sewed and shipped almost 2,000 caps. My shop has reached all 50 states and several countries. I am honored to have received over 400 5-star reviews on Etsy. I handmake every single scrub cap from start to finish and I believe my love for what I do shines through in each of them.
I'm so proud to offer what I consider to be the most versatile style of scrub cap- the Euro cap. It's sleek fit is sure to flatter and there are several different ways to wear this cap! Combine that with tons of fun prints, bright ribbons, and sparkly threads, and what's not love?
It means so much to have you supporting my business. Please let me know if you have any questions/comments/concerns. Follow me on Insta @sew.in.love.design for sneak peaks!